20 July 2014, Khan Younis
Abu Jame' family
26 people killed, including 19 children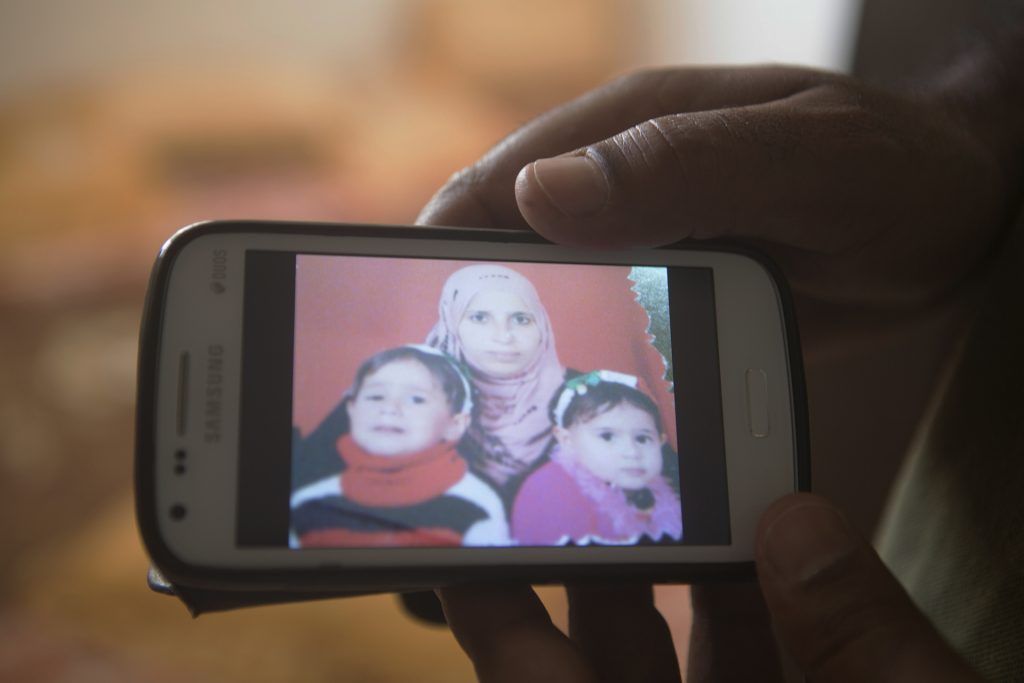 A photo of Yasmin (25), with her two daughters Batoul (3, left) and Suheila (2, right). Yasmin's husband, Bassem, is one of only three survivors of the Israeli attack on the Abu Jame' house, which left 26 people dead.
The attack took place in the evening, just before iftar (meal ending the day-long fast in the month of Ramadan). Israeli pilots, without any warning, bombed the house of Tawfiq Ahmed Abu Jame', killing 25 members of the Abu Jame' family: 19 children, five women and one man.
There were only three survivors to the attack: Tawfiq Ahmed (36), his brother Bassem and Tawfiq's four-year-old son Nouraddin. Israel claimed they were targeting a man who was visiting the house at the time.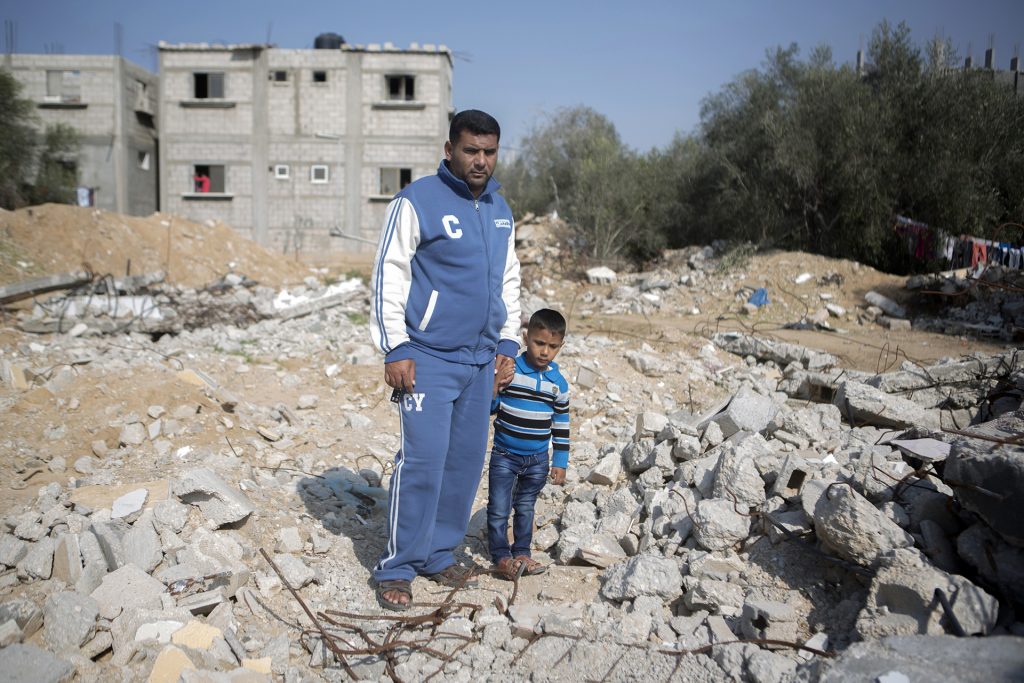 On the photo: Tawfiq standing in the rubble of the house with his son Nour Ad-Din (4), who lost his mother and seven siblings.
People killed in the attack in Khan Younis
20 July 2014
Fatma Mahmoud Ahmed Abu Jame'

(64)

Sabah Tawfiq Abu Jame'

(39, Fatma's daughter)

Razan Tawfiq Abu Jame'

(14, Sabah's daughter)

Jawdat Tawfiq Abu Jame'

(13, Sabah's son)

Aya Tawfiq Abu Jame'

(10, Sabah's daughter)

Ahmed Tawfiq Abu Jame'

(10, Sabah's son)

Haifa Tawfiq Abu Jame'

(9, Sabah's daughter)

Tawfiq Tawfiq Abu Jame'

(5, Sabah's son)

Maysa Tawfiq Abu Jame'

(1 day, Sabah's daughter)

Yasser Ahmed Abu Jame'

(27, Fatma's son)

Fatma Riad Abdel Rahman Abu Jame'

(25, Yasser's pregnant wife)

Sajed Yasser Abu Jame'

(5, Yasser and Fatima's son)

Seraj Yasser Abu Jame'

(4, Yasser and Fatima's son)

Sara Yasser Abu Jame'

(2, Yasser and Fatima's daughter)

Shahinaz Walid Abu Jame'

(28, Fatma's daughter-in-law, wife of Taysir)

Fatma Taysir Abu Jame'

(7, Shahinaz's daughter)

Ayoub Taysir Abu Jame'

(6, Shahinaz' son)

Rayan Taysir Abu Jame'

(4, Shahinaz's son)

Rinad Taysir Abu Jame'

(1 and a half, Shahinaz's daughter)

Nujud Taysir Abu Jame'

(4 months, Shahinaz's daughter)

Yasmin Ahmed Abu Jame'

(25, Bassem's pregnant wife and Fatma's daughter-in-law)

Batoul Bassem Abu Jame'

(3, Yasmin and Bassem's daughter)

Suheila Bassem Abu Jame'

(2, Yasmin and Bassem's daughter)

Bisan Bassem Abu Jame'

(1, Yasmin and Bassem's daughter)

Husam Husam Abu Ginas

(6, Fatma's nephew)

Ahmed Suleiman Sahmoud

(34, he was visiting the Abu Jame' family at the time of the attack)