20 July 2014, Shuja'iyya, Gaza City
Al-Helou family
11 people killed, including 4 children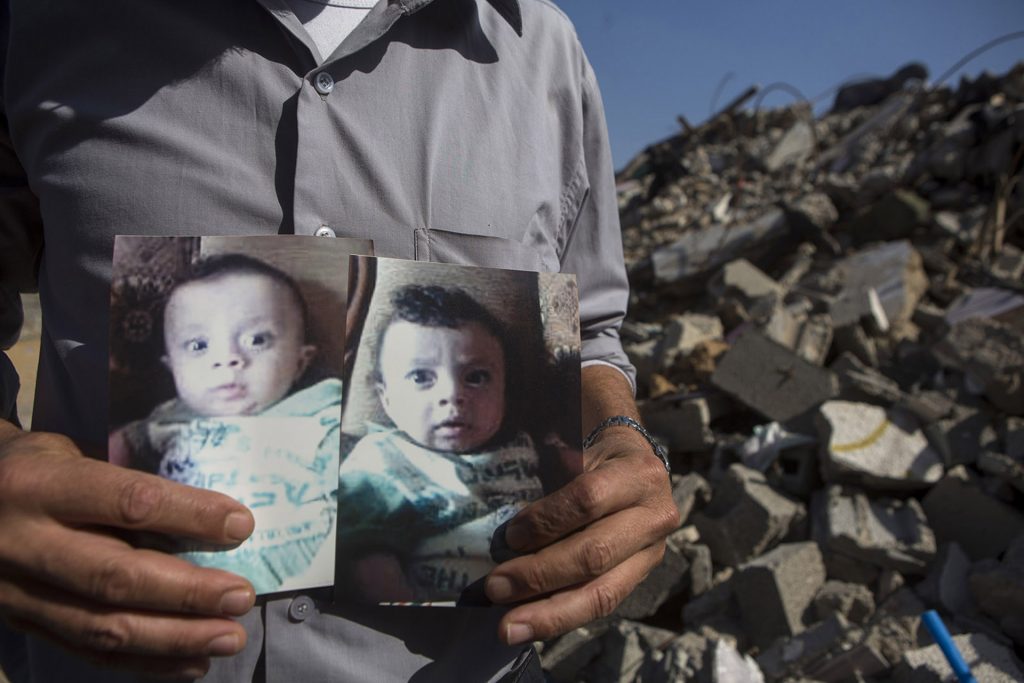 Photo: Talal, standing in front of the rubble of the house where his family members were killed, showing photos of his two dead grandsons, five-month-old twins.
Jalal, the owner of the house that was bombed, had left earlier that day. His brother Jihad, along with his own family, came to stay there. Their other brother, Talal, and his immediate family lived in the house opposite. When Jalal's house was bombed (with Jihad and his family inside), Talal and his wife and kids decided to leave their place immediately, despite the intense bombing all around.
"We preferred to take the risk of losing one or two while fleeing in the streets than losing the whole family at home," says Talal.
The al-Helou family house was hit during the night of a massive Israeli bombardment directed against the Shujai'yya neighbourhood, on the eastern edge of Gaza City, which left most of the area in ruins. Dozens of people were killed, hundreds injured, and tens of thousands made homeless. The family of Talal's daughter Hedaya, including herself, her husband, and their three children, were all killed.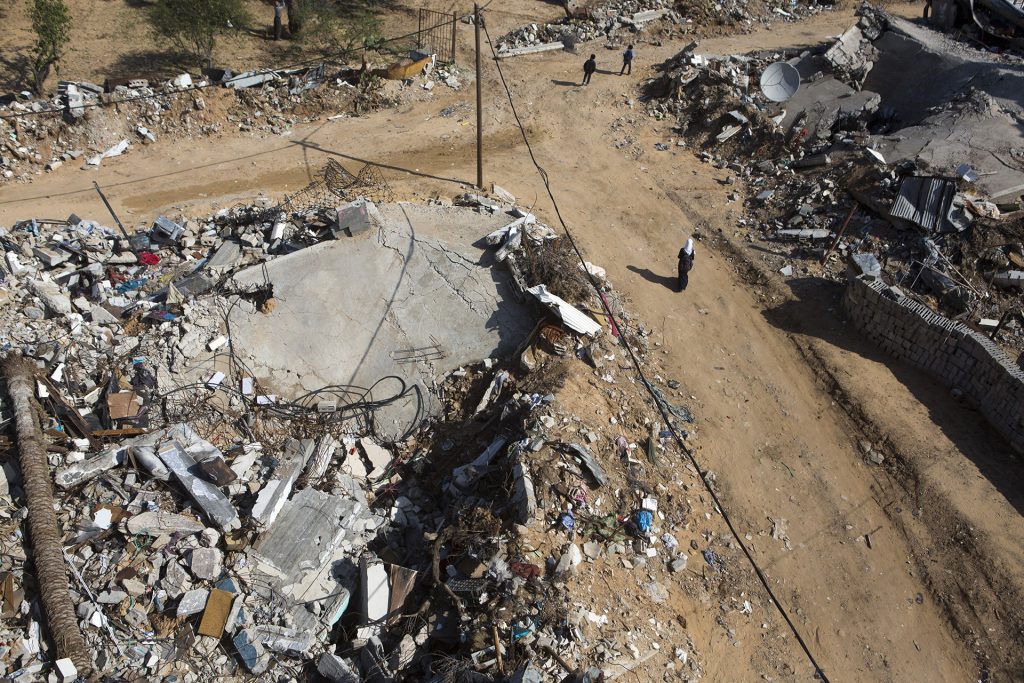 People killed in the attack in Shuja'iyya,
Gaza City
20 July 2014
Jihad Mahmoud al-Helou

(58)

Siham Atta al-Helou

(56, Jihad's wife)

Mohammed Jihad al-Helou

(29, Jihad's son)

Asmaa' Jihad al-Helou

(24 Jihad's daughter)

Tahrir Jihad al-Helou

(20, Jihad's daughter)

Najiya Jihad al-Helou

(15, Jihad's daughter)

Ahmed Jihad al-Helou

(26, Jihad's son)

Hedaya Talal al-Helou

(24, Ahmed's wife)

Maram Ahmed al-Helou

(2, Ahmed and Hedaya's daughter)

Abdelkarim Ahmed al-Helou,

(5 months, Ahmed and Hedaya's son)

Karam Ahmed al-Helou

(5 months, Ahmed and Hedaya's son, and Abdelkarim's twin)