17 July 2014, Gaza City
Shuheibar family
3 children killed
Photo: From left to right: Afnan (8), Jihad (11) and Wassim (8).
Five children of the Shuheibar family were feeding pigeons on the rooftop, when they were targeted by an Israeli drone. Afnan, Jihad and Wassim were killed. The two other boys, Oday (16, Afnan's brother) and Basel (10, their cousin) survived, but were seriously injured.
"What could those small children be guilty of for Israel to target them with such a rocket?" Asks Afnan's father, Wissam.
In June 2016, the parents of Afnan, Wassim, Jihad, Oday, and Basel lodged a complaint against the French company Exxelia Technologies for their complicity in war crimes and involuntary manslaughter.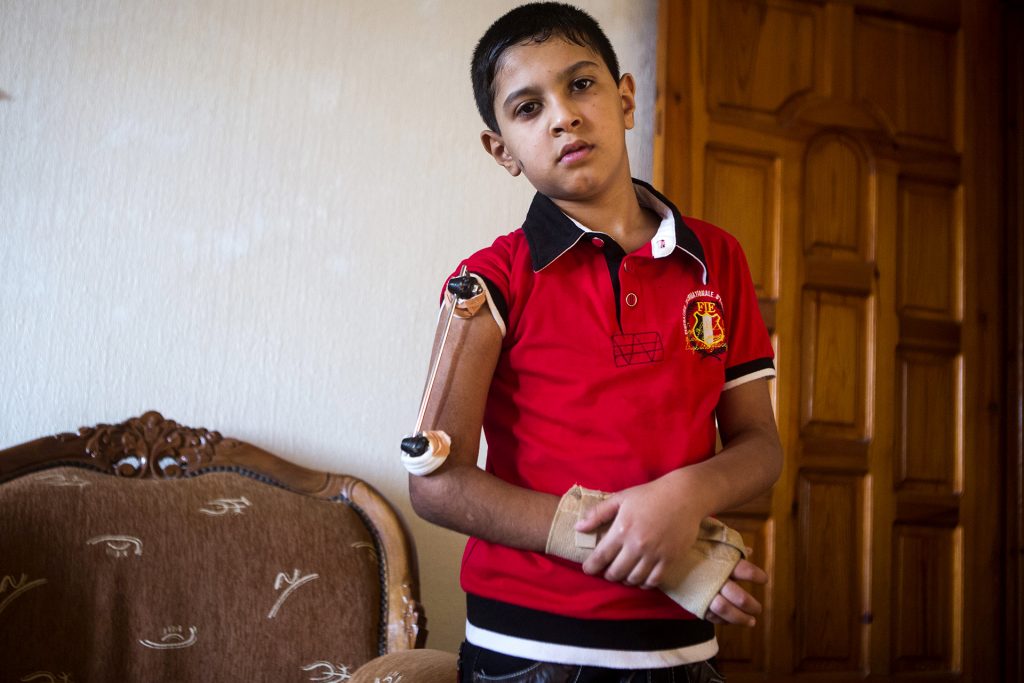 Photo: Basel Shuheibar (10), one of the two boys who survived the airstrike. The photo was taken two months after the attack. Basel spent months in Germany and Turkey, undergoing surgeries on his arm and head. His body is still full of possibly carcinogenic shrapnel. His mother says that a year later he is doing better, but he still suffers from the pain in his arm and reoccurring headaches. Basel stopped avoiding people all together, but spending time with other kids is still a challenge. "Because of my injury, I get tired, I have headaches. And I'm afraid my head injury could reopen," he explains. So, sometimes, he prefers to be alone.
People killed in the attack in Gaza City
17 July 2014
Afnan Wissam Shuheibar

(8)

Jihad Issam Shuheibar

(11, Afnan's cousin)

Wassim Issam Shuheibar

(8, Jihad's broher)